Super Body Mini: Cyber CR-X "Mugen CR-X PRO.2" Part number 67322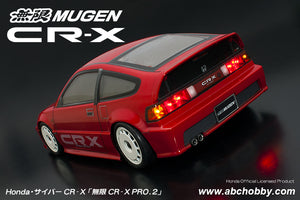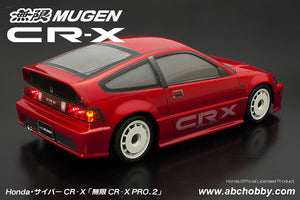 Technical Specification & Detail
| | |
| --- | --- |
| Size | 1:10 |
| Body Type | Super Body Mini: Cyber CR-X "Mugen CR-X PRO.2" |
| Item Code | 67322 |
| Body Color | Clear |
| Manufacturer | ABC Hobby |
| Condition | NEW |

We are selling vintage stock of mini-z cars
Therefore, the model you want may not be in stock. If you wish to make an addition to your collection we recommend that you purchase your model as soon as possible since stocks may be limited.
What is condition information
We sell both new and second hand models. That being the case the condition of our second hand products are ranked below.
| | |
| --- | --- |
| RANK | CONDITION |
|  A |  Very Good condition(as good as new) |
|  B |  Good condition |
|  C |  Fair condition |
|  D |  Poor condition(We can not sell it) |
|  NEW | The stock is new  |